The Occitan cross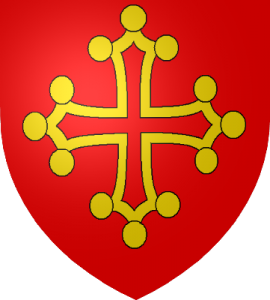 The Occitan cross is a Greek cross with 4 branches, each terminated by 3 balls. As the Greek Cross is a representation of Christ, the 12 balls refer to the apostles.
This cross was brought to Toulouse during the Crusades by Raymond IV, who took part in the Siege of Antioch in 1098. The legend has it that the balled golden cross on a red background emblem floated on the walls of the pink city. The cross figured afterwards on the seal of the Count of Toulouse, and on some coins until 1272.
The Occitan cross is the symbol of Occitania, which is the historical region in southern Europe where Occitan was historically the main language, and is sometimes still spoken. The Occitan cross is represented on the flag of modern-day Occitania. It can also be found in the emblems of the french regions Midi-Pyrénées, Languedoc-Roussillon and Hautes-Alpes, among many others.
In Toulouse, the Occitan cross is depicted on the Place du Capitole, one of the main square downtown.
This is the work of the french artist Raymond Moretti. The 12 balls represent the 12 zodiacal signs, the 12 months, and the 12 hours of the day.
Visit the Capitol while you're in Toulouse!