By train 🚄
Angers is connected to Paris via a 90-minute ride on France's high-speed train, the TGV.
TGVs to the west of France depart from the Paris-Montparnasse station, so if Paris is just a transit stop on your way, you may need to make a connection via a bus, the underground or the RER. There are around 20 TGVs a day from Paris to Angers and back.
To book tickets 👉 www.thetrainline.com 
You can also catch a direct TGV from cities such as Lille, Strasbourg, Lyon and more, but there may only be 2 or 3 departures a day.
If you fly in to Paris-Charles de Gaulle airport (CDG), note that there is a TGV station located underneath the airport, with a direct TGV line to Angers.
Car rentals
Several car rental desks are available at the Angers Saint-Laud train station: Avis, Budget, Europcar, Hertz and Sixt. Others are in the immediate vicinity.
You can also choose to rent a car (Avis or Budget) when booking your train ticket via SNCF-Connect. More information 👉 https://www.sncf-connect.com/en-en/train/train-services/train-avis.
By car or motor home 🚗
Angers is located 300 km to the south-west of Paris, and it is a comfortable 3-hour drive via the A11 highway.
It takes about six hours to drive to Angers from Toulouse (635 km) or Lyon (600 km), and four hours from Bordeaux (400 km).
Note that you will have to pay toll charges on the highways in France (around 30€ from Paris to Angers, for instance). The silver lining is that there are numerous rest areas on the highways, and they all come with clean, free restrooms. 
There are several service and parking areas (including some that are free) for motor homes around Angers. Click here for more information.
By plane ✈️
If you're looking to fly to Angers via a regular airline, there are two main options:
Land in Paris (CDG or ORY) and catch a TGV to Angers – see above 'By train' section for more information.
Land in Nantes (NTE) and catch a train to Angers – there are dozens of trains daily connecting Nantes to Angers (TGVs and regular trains). You will need to take a shuttle from the airport to the station.
See also 'Car rentals'.
Affiliate disclosure: we may earn a commission when you book your flight via the link above to Expedia.
By private plane 🛩️
If you are a licensed pilot, you can fly in to Angers-Loire airport (ANE / LFJR) where our venue, Espace Air Passion, is located.
In 2022, the landing fee was 12,24€ and the parking fee was 0,54€/ton/hour. (Latest information: https://www.angers.aeroport.fr/en)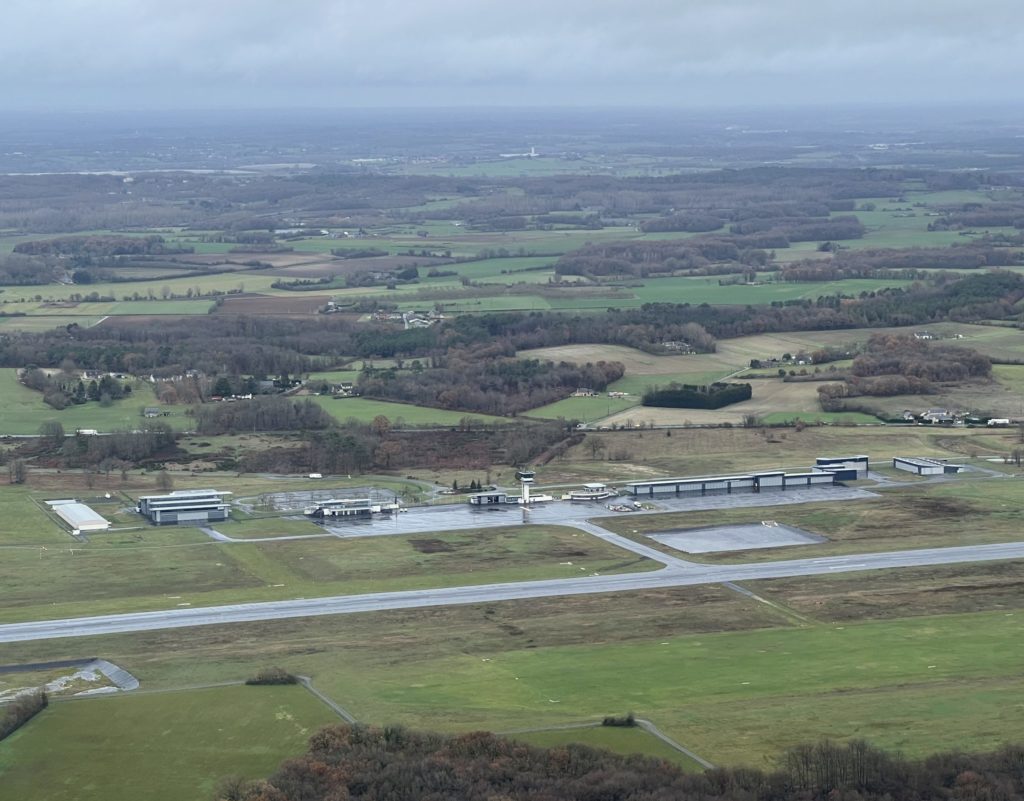 By bike 🚲
Angers is located on two touristic bike routes:
---
Our recommendation:
If it is a possibility for you, driving to Angers will definitely give you some additional flexibility because Espace Air Passion, our venue, is located 25 km outside of Angers. There is a large, free parking for your convenience. 
We are currently looking at different options to help attendees commute to Angers and back for evening entertainment and lodging. Please let us know if you intend to drive to the SpaceUp and are willing to ride share on Saturday and/or Sunday.
Espace Air Passion is less than 1 km away from exit 12 on the A11 highway, but from Angers we recommend taking the itinerary via Corzé to avoid paying a toll charge on the highway (around 2,2€).
See also 'Car rentals'.
---