This year, we're proud to anounce that Airbus Group will be sponsoring our event once again.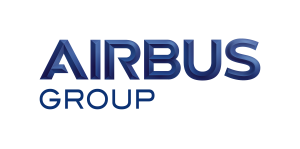 Airbus Group, and specially its space company, Airbus Defence and Space, and the forthcoming joint-venture Airbus Safran Launcher, will be present during the week end.
Airbus Defence and Space is :
Europe's No. 1 in defence and space
Among the top 10 defence companies worldwide
World-leading player in the space industry
World-renowned range of products including Eurofighter, A400M and Ariane launcher
Space Systems Product highlights
Ariane 5. Placing the heaviest loads in final or transfer orbits for institutional and commercial missions.
Dual launch capability.
Orbital Systems. Operation and utilisation of the European Columbus laboratory for the International Space Station, development and production of experimental payloads and life support systems, astronaut training,
design and build of the Automated Transfer Vehicle cargo vessel, development of the Service Module for
NASA's Multi Purpose Crew Vehicle (MPCV), sounding rocket missions.
Earth Observation, Navigation and Science satellites and spacecraft, probes and rovers. Design and production of Earth Observation, Navigation and Science satellites. Leveraging a wide range of highly versatile satellite systems, optical and microwave instruments; ground segment.
Telecom satellites. Tailored solutions for a full range of missions, from fixed services and broadcast to mobile and broadband applications. Total satellite communications system capability: from design, manufacture, test, launch and operations to the provision of complete communications system infrastructure.
Defence. Airbus Defence and Space deliver a full range of space-based security and defence systems and services for reconnaissance and surveillance, secure communications, early warning, and ballistic defence.
Propulsion. Rocket engines, complete space propulsion systems, sub-systems and components.
Pioneering aerospace – Launchers
Pioneering aerospace – Satellites
Pioneering aerospace – Manned spaceflight